Leonard is the genius and self-appointed leader of the Squalien trio. He is voiced by Kevin Glickman.
Appearance
Edit
Leonard is a tall yellow Squalien with black glasses and an orange tail.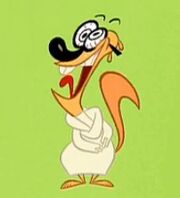 Appearances
Edit
Leonard appears in all of the episodes of the show along with Blake, Mitch, and the other Squaliens.
Relationships
Edit
Blake Myers
Edit
Leonard really wants to attack Blake. He also hates Blake's skills to protect the Earth. Leonard's plans just fail every time when he was beaten by Blake.
Mitch de la Cruz
Edit
Leonard really doesn't want to be beaten by Blake's sidekick, Mitch.
Leonard sometimes hate Jerome when he interrupts his plan. However, Leonard really hated him when he wants a turn to attack Blake and Mitch.
Leonard really don't like the unusual ideas or plans of Maxus to capture Blake.
Squalien General
Edit
Leonard really wants to be impressed by the Squalien General because of his genius plans to capture Blake.
Out of all the title cards in Get Blake!, he appears the most.
He is the only Squalien who is not the Squalien General's nephew which makes Leonard jealous of both Maxus and Jerome.
In Get Fishin'!, it is confirmed that he is good at singing.
In Get Hurtin'!, Leonard's left ear is the most ticklish out of his body.
In Get Hurtin'!, he is allergic to wool.
In Get Surprised!, he is allergic to bagel.
In Get Late!, it is revealed that Maxus finds out with the Squalien General that Leonard knows Latino & Spanish.