Blake Myers is the main protagonist of the Nickelodeon animated comedy television series Get Blake! who is voiced by Robbie Daymond. He is a 12 year old boy who dreams one day of being a space ranger to protect the Earth from the evil Squaliens. He along with Mitch de la Cruz and the Squaliens appear in all episodes. He is very skilled at parkour.
Appearance
Edit
Blake Myers is a 12 year old preteen with blue hair that wears a red T-shirt and shoes and black pants. He's also got a long nose and his height is 3'ft.
Appearances
Edit
Blake appears in all of the episodes of the show along with Mitch and the Squaliens.
Relationships
Edit
Mitch de la Cruz
Edit
Mitch is Blake's best friend. Apart of their friendship, Mitch also offers to Blake his assistance in order to defeat the Squaliens. They very good friend and they like to eat tacos together. In the episode Get Amnesia!, Mitch helps Blake to regain back his memories.
Skye Gunderson
Edit
Skye is the love interest of Blake. His love for her isn't shown exactly but in the episode Get Skye! his interest for her is shown when Leonard traps Skye Gunderson, Blake tries to free her for every cost. In the same double-length episode, Skye kisses Blake in the mouth for a free taco in Valentine's Day. After the kiss, Blake freezes.
Blake hates Leonard in a similar way to the other Squaliens, but more because of his intelligence. He was very mad when he learnt that Leonard abducted Skye, his love interest, however Leonard's plan failed once more.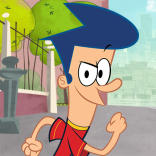 Ad blocker interference detected!
Wikia is a free-to-use site that makes money from advertising. We have a modified experience for viewers using ad blockers

Wikia is not accessible if you've made further modifications. Remove the custom ad blocker rule(s) and the page will load as expected.